Boston and Japanese rock bands.
I headed out to Boston last week to meet up with friends and see a Japanese rock band by the name of Girugamesh. I got into Japanese music at the tender age of fifteen, and now at 23 I have the means to actually travel and see them perform. Japanese rock is still unheard of to most in the states, but it's slowly and surely acquiring more of a following in recent years. Girugamesh did a small tour of the Northeastern states, which included a stop at Anime Boston. If one has never attended a large-scale Anime convention, it is usually a hub for all things Asian-culture related, including music.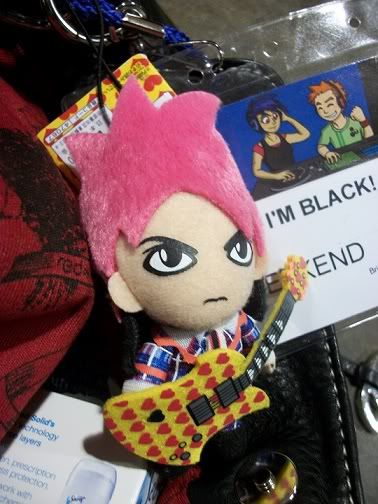 (a plushie, based off the famous Japanese rock guirarist hide of X-Japan)
The first official day of the con included an autograph signing and later the actual concert. I waited patiently in line with my friend and ended up making a new one. I've gone through the process a million times before, and have met a few bands in my time. It's always exciting and fun, but I can't say I've ever been one to freak out. I'm generally good at keeping my cool, even if I'm sharing the same breathing air of a band I adore.

(The boys in the band. L to R: Satoshi, Nii, ShuU, and Ryo)
Although I've met bands before, this was actually my first time meeting a band I didn't share a language with. It was slightly awkward at first, but their grasp on English is far better than my Japanese so it wasn't too terrible. I actually found their eagerness to speak English with the fans very endearing and sweet.
The concert was at 10pm that night, and we lined up ahead of time. My friends and I were disappointed to find that the room was filled with chairs. Obviously the people at Anime Boston haven't been to a lot of rock shows, because general admission is ALWAYS the way to go. However, I guess I can understand why they did it. They're a convention, not a concert hall, and probably do not have the proper security to handle the mass chaos that is a metal show in open space. Also, this convention was a lot of peoples first concert, I guarantee it. Anime geeks aren't exactly known for their live music activities, and even during the show a lot of them stood around like deer in headlights. This didn't stop my friends and I from doing what we do; which is sing, dance, and headbang like no tomorrow.  We even ran up closer to the front of the stage before the encore.

(Short video I took at the show)
The concert itself? Amazing. Wonderful energy and enthusiasm from the band. Satoshi's vocals sounded great, and they played a good mixture of older and newer songs. Plus, they played "I Think I Can Fly", possibly my all-time favorite Girugamesh song.
Girugamesh – I think I can fly
The next day, the band held a Q&A session and another autograph signing. I have to say, the benefit to seeing a band at a convention is that they put together nice treats for fans you wouldn't get out of a regular show. Interacting with the guys, even with a language barrier, was fun for everyone involved.

("Make your cutest expression". Credit to my new friend Ciara for this photo!)
On the last day, if you bought the official Girugamesh tshirt, you got to have your picture taken with the band. Fortunately for my friends and I, we ended up running into the band in the mall prior to this event so we got a little more one on one interaction with them than just the con setting. Overall, it was a successful trip.
So seeing a band at an anime convention has its pros and cons. Negatives included that there were a lot of stupid stipulations to follow, and I can't say the staff were very pleasant with us. I'm 23 years old, and I do not appreciate being scolded like a child because I'm not "lining up properly". But, as stated, it was worth it for all the extra time with the band you get to spend outside of the concert.